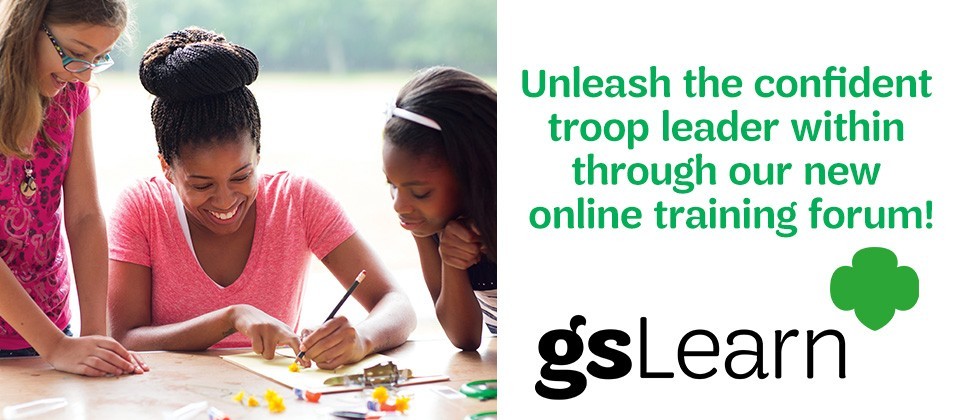 Online Courses Through gsLearn
Introducing gsLearn – an online training platform for troop leaders! Access courses on-the-go, track your progress, and more by signing in to your MyGS account. You can do this by:
Sign in to your MyGS account by clicking "Sign In" on the top right of our website and entering your username and password. 

You can reset your password by clicking "Forgot Password?"

Click the yellow "My Account" button on the top right. 
Click the gsLearn tab on the left.
* If you do not see a gsLearn Option after logging into MyGS, please contact Customer Care at 1(800) 541-9852 or  CustomerCare@GirlScoutsWW.org  for assistance.
Below are some of the Learning Paths and Courses you may find on gsLearn.
Note: Should your course open with no sound, please press "pause" and press the "play" button to restart.

The New Leader's Learning Path

A learning path dedicated to new leaders and helping to prepare them to lead troops. This path includes GSUSA's Successful Leader Learning Series and information on Banking, Family Involvement, Meetings, and Policies.

The Experienced Leader's Learning Path

Whether you just finished your first or twelfth year as a leader, the Experienced Leader's Learning Path is for you! This learning path will be constantly developing with resources and information pertinent to our experienced leaders.

The Troop Treasurer's Learning Path

Learn the ins and outs of Troop Banking. From opening or changing an account, to keeping accurate records, to involving girls in the financial management process, these modules help Troop Treasurers learn what their role entails. All volunteers may access this path through gsLearn.

The Troop Outdoor Specialist &
Beyond the Troop Meeting Learning Paths
Are your girls ready to make the leap away from your meeting site? Whether you are planning a short day trip, an indoor overnight, or planning to hike and camp, this path is for volunteers responsible for coordinating outdoor experiences for their troop. The path includes courses like Day Trip Planning, Basic Overnights, Outdoor Overnight, and more!

Troop Activity Form Finder 


Troop Product Manager Learning Path
Learn the essentials of the Troop Product Manager position, including responsibilities, resources, and ideas. Updated courses are loaded into gsLearn mid-November prior to cookie season starting.  

Grade Level Learning Path

Explore the Girl Scout program for your troops' grade level. Use the Badge Explorer link to learn more about the badges and journeys available for your troop.
Working with Daisies (K-1)
Working with Brownies (2-3)

Badge Explorer - All Levels


Even More

There are short supplement modules to explore a topic and a series of Diversity, Equity & Inclusion webinars. Our Volunteer Learning team is creating even more online learning modules—so stayed tuned for updates!
Need a hand?
For technical help or other questions, email us or call 1(800) 541-9852.