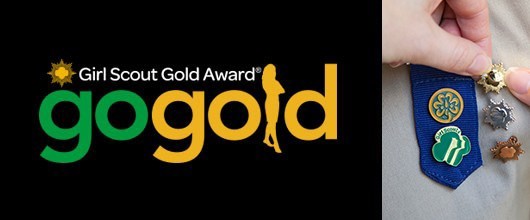 Gold Award
The Girl Scout Gold Award is the highest award a Girl Scout can earn. Once achieved, it shows colleges, employers, and your community that you're out there changing the world.
Join a century of women who have done big things. Learn about scholarships for Gold Award Girl Scouts, the history of the Gold Award, and the benefits of going Gold. 

You can pursue your Girl Scout Gold Award if:
 

You're in high school (ninth through twelfth grade, or equivalent) 
 

You're registered as a Girl Scout Senior or Girl Scout Ambassador
 

You have completed two Senior or Ambassador Journeys OR earned the Girl Scout Silver Award and completed a Journey
 

Learn About the Gold Award
Gold Award Overview – coming soon! A big-picture overview of the Gold Award process.
We offer many different ways for both youth and adults to learn about the Gold Award process and guidelines. None of them are required, and we provide several different options as a way to meet different learning styles, schedules and needs of various participants.

Gold Award Legacy
Each year, Girl Scouts of Western Washington honors an individual as the Gold Award Legacy recipient. These awardees embody the Gold Award spirit, put Girl Scout values into practice in their daily lives, and serve as exceptional role models for Girl Scouts. Nominations for the 2019 Gold Award Legacy recipient are due April 15, 2019. 

Other Gold Award Resources
There are many additional resources we provide to support the Gold Award Program, such as rubrics that provide information about the Gold Award review process. All of these resources can be found in our forms section by searching for "gold award".

Volunteer Opportunities
Do you want to empower girls? We have volunteer positions available for adults interested in facilitating online and in-person workshops.