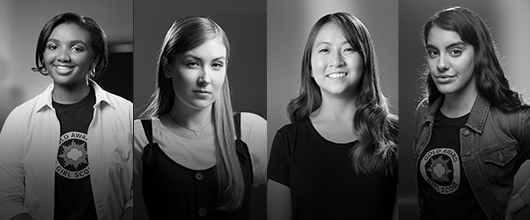 Gold Award
The Girl Scout Gold Award is the highest award a Girl Scout can earn. Once achieved, it shows colleges, employers, and your community that you're out there changing the world.
Join a century of women who have done big things. Learn more about Gold Award scholarships, the history of the Gold Award, and the benefits of going Gold. 
You can pursue your Girl Scout Gold Award if:
 

You're in high school (ninth through twelfth grade, or equivalent) 
 

You're registered as a Girl Scout Senior or Girl Scout Ambassador
 

You have completed two Senior or Ambassador Journeys OR earned the Girl Scout Silver Award and completed a Journey
 
Learn About the Gold Award
Gold Award Overview – coming soon! A big-picture overview of the Gold Award process.
Online Orientations: A free monthly online orientation for girls in grades seven and up, parents, troop leaders, and project advisors.
In-Person Gold Award Workshop: For girls who are ready to Go Gold, this three-hour workshops covers how to plan a project, write an effective proposal, design a Take Action Project, and engage your community. Optional, but strongly recommended!
Other Gold Award Resources
Volunteer Opportunities
Do you want to empower girls? We have volunteer positions available for adults interested in facilitating online and in-person workshops.